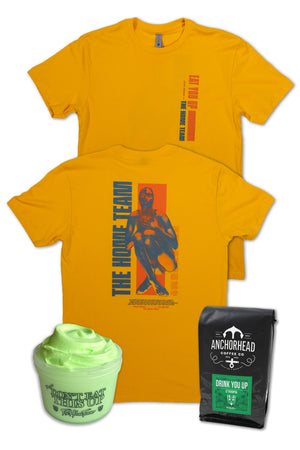 Eat You Up Bundle
EVERYTHING!!!! This bundle comes with the new Eat You Up tee, our slime collab with Firefly Slime, and our coffee collab with Anchorhead Coffee! Real rockers get it ALL!
Eat You Up design by @collinjameswallace. Printed on

 

Next Level Apparel tees.
Anchorhead Coffee x The Home Team coffee collab numero dos! Drink You Up is a natural processed Ethiopia with notes of pink lemonade, cherry and cinnamon sugar.

Collab with Firefly Slime! Our first ever slime is a 

glow in the dark neon green

, just like in the Eat You Up music video! It's got a blueberry pancake scent, but PLEASE DON'T EAT IT UP!!!